How can we centralize and share relevant and timely PPP resources to help practitioners make better informed infrastructure decisions?
Background
The timely access to reliable knowledge resources to support the design and implementation of public-private partnerships (PPPs) has not kept pace with the exponential growth in their use over the past two decades.
In 2015, in recognition of this gap, the World Bank Group in partnership with the Asian Development Bank, the European Bank for Reconstruction and Development, the Inter-American Development Bank and the Islamic Development Bank launched the PPP Knowledge Lab. The founding multilateral development bank partners have subsequently been joined by various other international organizations to collectively contribute their knowledge and content for experts and PPP practitioners alike.
Objectives
Design and implement a solution
that allows multilateral development organisations curate and share knowledge and resources on public-private partnerships (PPPs).
Optimise the process
of knowledge generation and sharing to make content more accesible.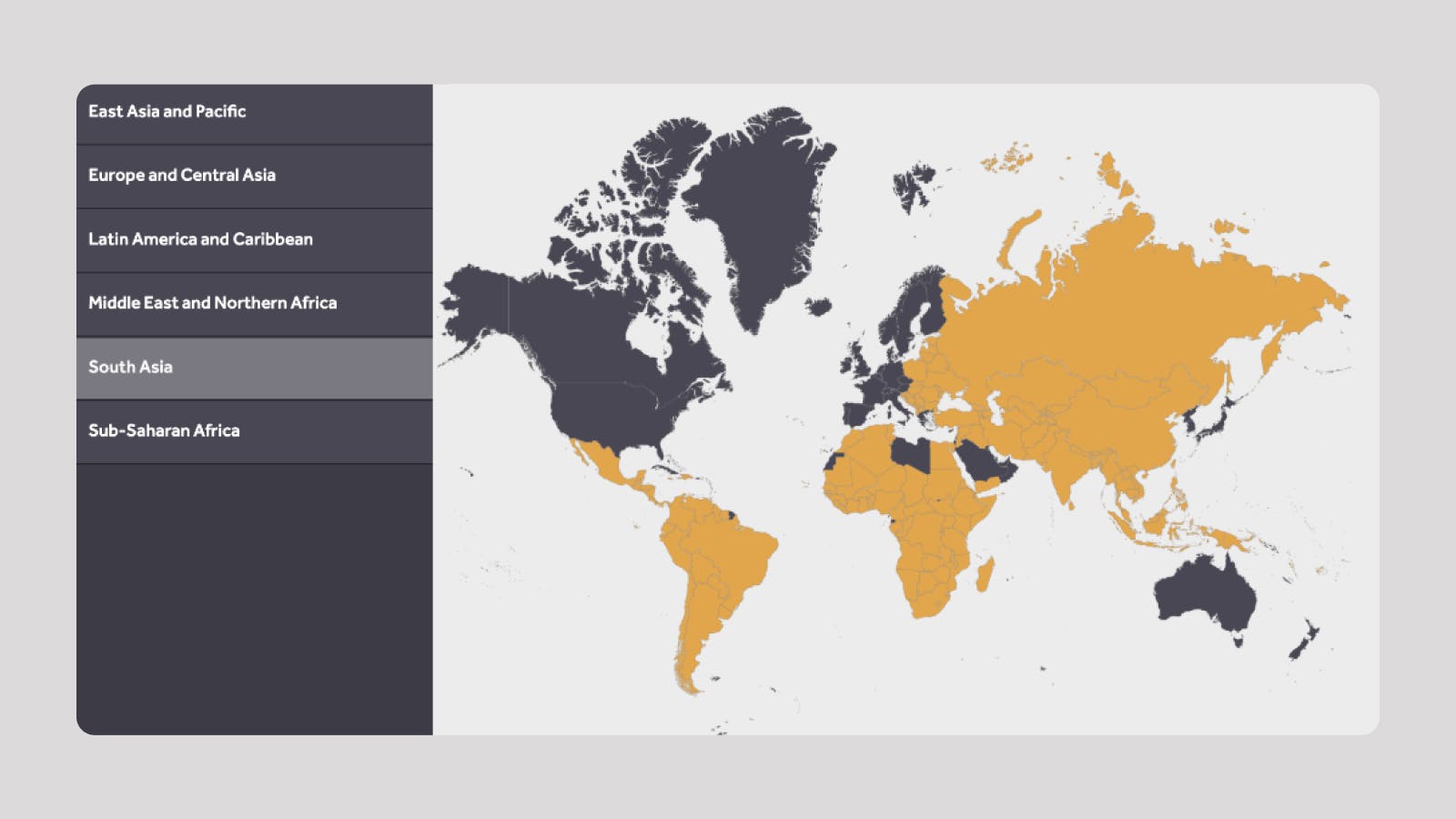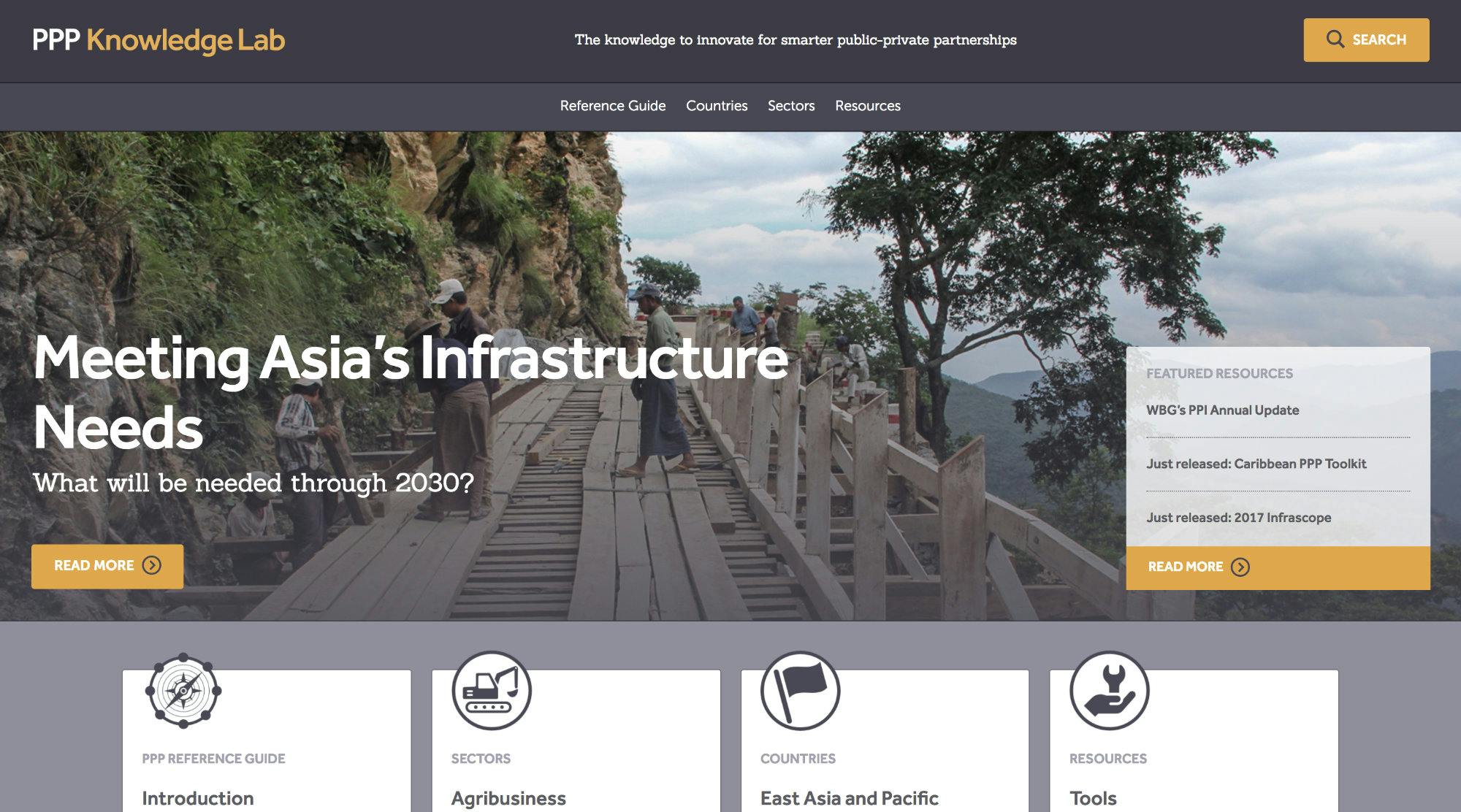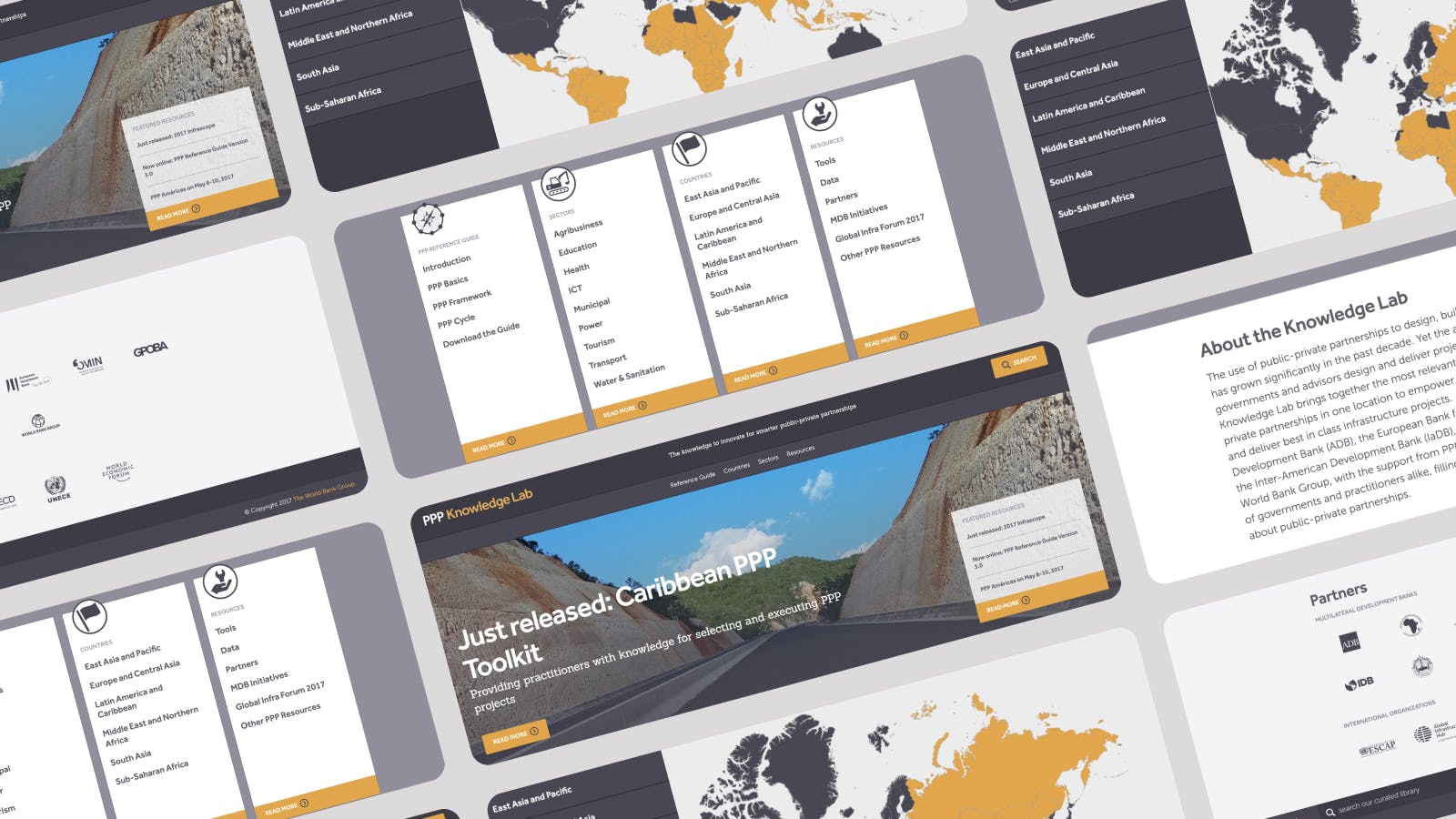 How did we work through the challenge?
User Research and Digital Design
We began by purposefully evaluating the steps necessary to meet the WBG team's objectives, to ensure that what they contracted us for was the right course of action. This strategy check allowed us to come together as one team to adjust and refine the scope of work and carefully align client-consultant working assumptions and expectations. We then researched, asked questions, and listened to PPP practitioners and experts. We built focused use-cases, wireframes, and prototypes, testing constantly with those who would ultimately use the knowledge in their work. To make it user-friendly, our focus was on thoughtful design and purposeful iterations ultimately resulting in a cohesive experience for those who would be using the Knowledge Lab.
Technical Development
Changing the way knowledge is made available online is only possible with a strong technology solution at its core. Typically, development organizations would use decade-old systems and infrastructure with costly migration and upkeep costs. We had to create an architecture that would allow for multiple front ends to use the same backend knowledge system. To achieve this new way of knowledge sharing for development, we built a central API using Ruby on Rails and linked several different front-end platforms to the API using javascript frameworks. This approach allows systems both old and new to access the resources and continually update.
Communications and Content Creation
We traveled to the PPP Days Conference in London to officially launch the PPP Knowledge Lab and showcase the collaborative efforts of all the partners and our team. We hosted webinars, walkthroughs, outlined guidelines for resources to be added, and a joint launch communications strategy that was coordinated with all of the agencies.
We also helped develop a quarterly journal on public-private partnerships called "Handshake Journal" published by the World Bank Group both in flip-magazine and print formats. Originally conceived as a way to stay in touch with PPP clients, its goal quickly broadened to providing insight and opinion on the role of public-private partnerships in response to global infrastructure challenges. Handshake's stories featured innovative projects, interviews from the field, case studies, and lessons learned, among others, strategically compiled to distill technical know-how in a readable, engaging and fun way.
What were the outcomes?
Launch of a multi-site PPP Knowledge Lab, Handshake and PPIAF website in six months, with a full knowledge sharing API platform.
5,333 unique knowledge resources and assets curated.
119 automatically updated country reports and analyses.
15 key supporting partners from the original five MDBs participated in the initiative.